US may ease controls on tech exports to China
2006/05/23
---


2006-05-23
The United States may ease regulations on American technology exported to China if the importers can show they are not using it for military purposes, a U.S. official said Monday.
Companies that earn such trust could skip some bureaucratic oversight on restricted technologies that could have either peaceful or military uses, David H. McCormick, the U.S. undersecretary of commerce for industry and security, told reporters in Beijing.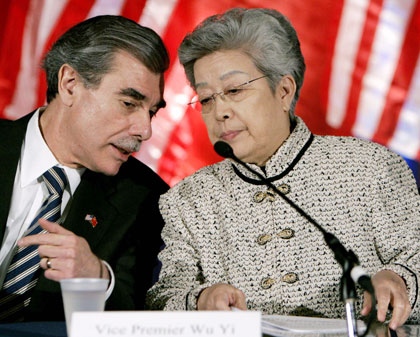 US Secretary of Commerce Carlos Gutierrez (L) and Chinese Vice Premier Wu Yi attend a news conference following the annual US-China Joint Comission on Commerce and Trade in Washington April 11, 2006. US undersecretary of commerce for industry and security David H. McCormick said Washington may ease controls on technology exports to China. [Reuters]


"We need to do everything possible we can to ensure US export control policies are not standing in the way of U.S. civilian technology transfers to China," said McCormick at a round table meeting with press during his trip to China.

He said the U.S. will update "our export policies to China," looking for ways to reduce the administrative burden on civilian trade.

The U.S. official said that the policies should not "discourage civilian technology trade".

In the past few years, there have been many constructive steps in promoting civilian technology trade, said McCormick. The amount of time it takes for export licenses to be processed has been cut by 24 percent, to under 40 days.

"We don't want to be a burden on industry, and that has been a great improvement," he said.

The American Chamber of Commerce in China says that current U.S. export controls are too broad, opaque and unpredictable, driving some Chinese companies to avoid buying technology from the United States altogether.

McCormick praised a current system under which a U.S. official visits Chinese companies to make sure they are not diverting imported American technology into the military. He said that process could be expanded.

He did not mention any specific technologies, or give further details, but said a full proposal will be made public in the coming weeks.

McCormick made the remarks after a day of meetings with Chinese officials, including Minister of Commerce Bo Xilai.

Although the United States' economy, the world's largest, is four times that of Japan, but US' exports to China are only half of the latter.

An annual trade report released earlier this month by the American Chamber of Commerce in China suggested that all branches of the US administration to take concrete steps to improve trade relations with China including more export promotions, improving visa policies and easing decades-old export controls to China, otherwise American corporate competitiveness in the world's fastest growing market would be in serious jeopardy.

Washington has frequently blamed China's trade and currency policies for its huge deficit with the country. According to US figures, its trade deficit with China increased by 24 per cent to US$202 billion last year; China puts the figure at US$102 billion, using different calculation methods.

Both Japan and Germany have substantial government offices and industry organizations to promote trade; and the United States ends up ceding market share to competitor countries, the report said.

"US companies will trail the competition in capturing China market share if the US Government fails to do its job," the report said.

As China modernizes and its buying power increases, US export opportunities will increase as many high-end products made in the United States will be attractive to the Chinese.

The American Chamber urged Washington to review policies that create uncertainty for potential Chinese customers, such as tough visa procedures and a restrictive and non-transparent export control regime.